Cosmetic Dentistry – Gahanna, OH
Make Your Smile Truly Shine with Cosmetic Dentistry in Gahanna
We know that the appearance of your teeth is just as important to you as their health. Your smile really tells people a lot about you, and it can go a long way in making that all important first impression. If your smile needs just a little boost to make you truly feel confident, Dr. Clayton Odenweller, and Dr. Brooke Buller can help. We take a different approach to cosmetic dentistry than most other dental offices. Rather than giving everyone a sterling white celebrity smile, we focus on making you the best version of yourself. The results look more natural, and you'll love what you see in the mirror every day. If you're ready to get a smile that can truly turn heads, be sure to contact our dental office today for cosmetic dentistry in Gahanna, OH.
Why Choose Claybrooke Dental of Gahanna for Cosmetic Dentistry?
Lifelike, Customized Porcelain Veneers
Virtual Smile Design Technology
Experienced Team of Dentists
Porcelain Veneers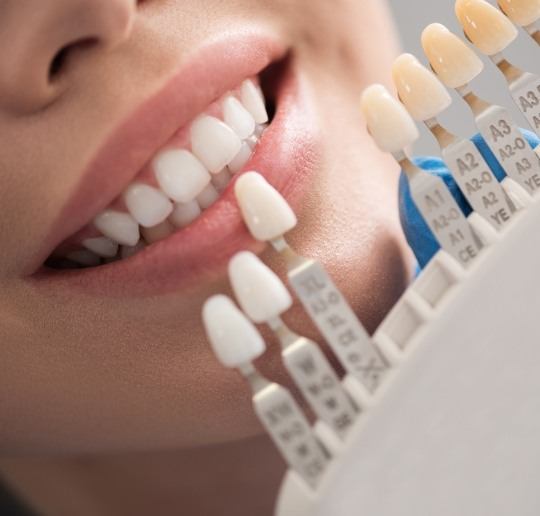 Porcelain veneers are a popular cosmetic treatment that can address a wide range of dental imperfections. Patients with chipped, cracked, or stained teeth can dramatically transform their smile, sometimes in as little as two visits to our dental office. Whether you want to fix a single tooth or rejuvenate a whole row of teeth, porcelain veneers may be the right solution for you.
Metal-Free Dental Restorations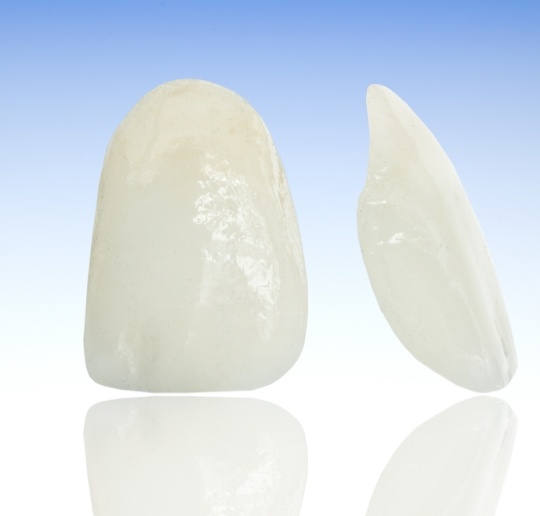 Do you have an outdated crown or filling that's made of a shiny metal that sticks out whenever you smile or speak? It's time to get it replaced! At Claybrooke Dental of Gahanna, our team uses high-quality, natural-looking materials to craft restorations from. Not only are they safe for your gums and don't cause unwanted side-effects like dental sensitivity and tooth discoloration, but they're able to flawlessly blend in with your natural teeth.
Cosmetic Dental Bonding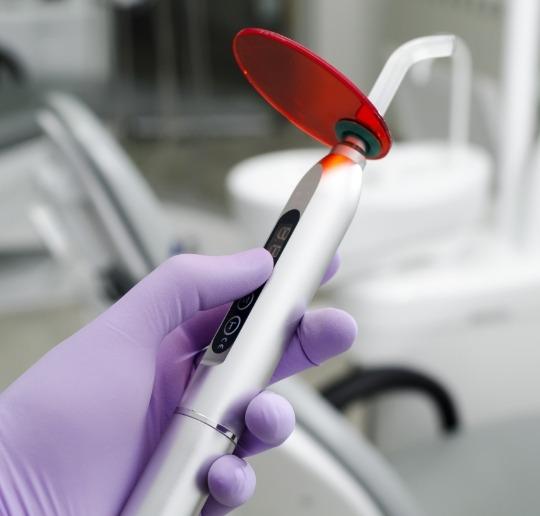 It's amazing how just a small chip or crack in your teeth can throw your entire smile off. Thankfully, we have a quick and easy way to fix these minor flaws. It's called direct bonding, and it enables us to literally sculpt your teeth into the perfect shape, size, and color. We'll apply a putty-like composite resin to your tooth, mold it until you are satisfied with the look, and then quickly harden it with a curing light. The treatment is fast, effective, and it can easily last for 10 years with routine brushing and flossing.
Teeth Whitening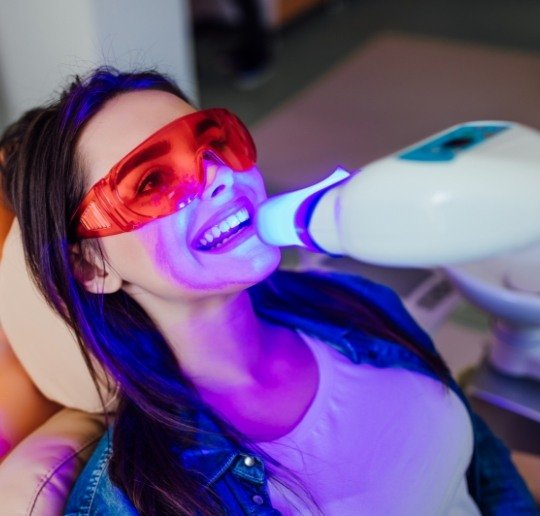 Are you ready to part with stubborn stains and unsightly discoloration? We can help you achieve the bright, beautiful smile you deserve! Depending on your unique dental needs and smile goals, we have three teeth whitening treatment options to pick from. The first is an in-office treatment, which uses a laser to safely and effectively whiten your teeth. Plus, there are two take-home options that blow any generic store-bought kit out of the water. Either way, you can have peace of mind you will love the results!
Virtual Smile Design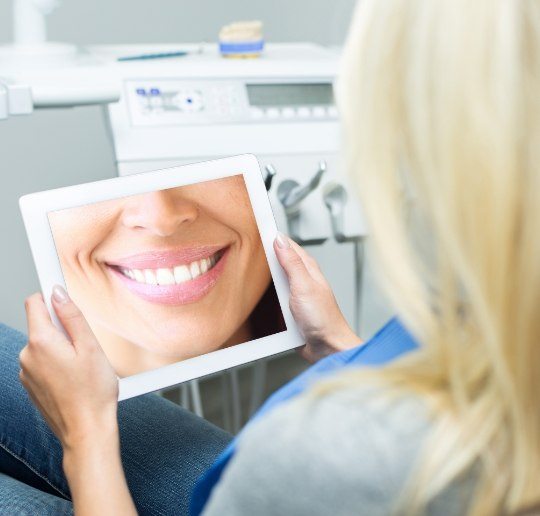 If the one thing that's holding you back from investing in your smile by receiving cosmetic dentistry is that you won't be able to see the results until after they're permanent, we've got just the solution for you! Our virtual smile design software allows us to create and manipulated a digital blueprint of your mouth, allowing us to show you what your smile will look like before your treatment, as well as after. That way, there's no guessing or gambling involved in investing in cosmetic treatment!
Cosmetic Dentistry FAQs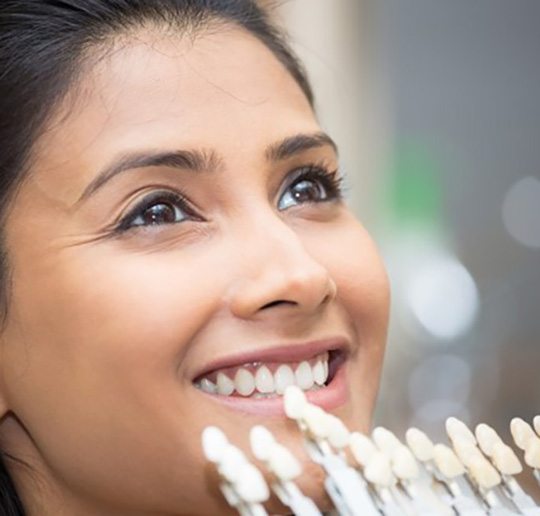 Cosmetic dentistry is incredibly expansive, containing a variety of treatments suited to several purposes. While this makes it very useful for patients, it can also make the field complicated to understand if you aren't intimately familiar with all the treatments that are available to you.
We'd be happy to talk to you if you want something cleared up, but if you'd rather do some research on your own, here are answers to some common questions we get about cosmetic dentistry.
Is Cosmetic Dentistry Expensive?
Often, people have the idea that cosmetic dentistry is expensive, and part of that comes from the fact that insurance companies don't typically cover these kinds of services.
While there are some treatments on the pricier side, that isn't true of all cosmetic dentistry. There are plenty of procedures that can make a huge difference and fit easily into your budget.
It's also worth keeping in mind that cosmetic dentistry is an investment in greater confidence, greater happiness, and a better impression on others. No matter what you spend, you're bound to get something for your money.
Does Getting Cosmetic Dentistry Hurt?
It's common for patients to feel a little bit apprehensive about the prospect of pain in the case of any dental procedure, but thankfully there's nothing to worry about when it comes to cosmetic dentistry. Most of these treatments are incredibly non-invasive, and many of them don't even require anesthesia.
Even in the case of veneers, where you need to remove enamel for the treatment to work, we'll numb your mouth completely before beginning. The most you're likely to feel is some mild discomfort for a few days, though that should fade quickly.
Are There Cosmetic Dentistry Procedures That Are Suitable for Children or Teenagers?
There's no one more concerned about how they look than teenagers, and with the prevalence of social media, more young people than ever are interested in cosmetic dentistry.
Depending on their age, there are some cosmetic dental procedures that can be incredibly helpful and perfectly safe. For example, it's common for kids to accidentally chip or crack a tooth, and direct bonding or veneers can both fix them right up.
There are some treatments, like teeth whitening, that really aren't the best for kids with underdeveloped teeth. We'll be happy to talk to you and your child about what cosmetic options are available for younger people.
What Should I Expect at an Initial Consultation for a Smile Makeover?
When we first meet with you about a smile makeover, we'll begin with a thorough exam of your smile. This will give us the ability to figure out what kinds of procedures are best for you, and what kinds of preliminary restorative work may be necessary. This is also an opportunity to clear up any questions you have about treatment.
We'll then make use of virtual smile design to give you an idea of what your final results are going to look like. This will give you the opportunity to check out what you want and get an idea of what you're working toward.
Which Cosmetic Procedures Are Right for Me?
There isn't a one-size-fits-all treatment to create a beautiful smile because every mouth and situation differs. Your cosmetic dentist in Gahanna will examine your mouth and learn more about your goals to determine which procedures are right for you, like:
Porcelain Veneers: A veneer is a thin restoration that's bonded to the front side of a tooth to improve its appearance. Applying veneers to the teeth visible when smiling corrects many issues at once using a minimally invasive procedure.
Metal-Free Dental Restorations: Metal fillings and crowns can be replaced using tooth-colored solutions. Composite resin or all-ceramic materials can be customized to match the color of your natural teeth to blend in.
Cosmetic Dental Bonding: A composite resin is shaded to match your enamel to look like part of your tooth when used to fix minor imperfections. It's a quick, effective solution if you're on a budget.
Teeth Whitening: You can turn back the clock and reveal a whiter smile, with professional teeth whitening. Your teeth can get up to 8 shades whiter with results that can last for many months or years with the correct aftercare routine, like brushing and flossing.
How Long Does Cosmetic Dentistry Last?
Every procedure has a different life expectancy and many factors will affect the duration of your results. You can get the most from your investment with good oral hygiene habits. Brush your teeth at least twice a day for 2 minutes using a soft-bristled toothbrush and non-abrasive toothpaste. Floss at least once a day to remove food debris and plaque your toothbrush can't reach. It's best to break any bad habits that can damage your new smile, like chewing on your fingernails or grinding your teeth. Besides caring for your mouth at home, schedule a cleaning and checkup twice a year. We will keep your teeth and gums healthy to ensure your dazzling smile lasts.
Can I Use My Dental Insurance for Cosmetic Dentistry?
Dental insurance typically doesn't cover cosmetic dentistry because it's considered elective. However, many cosmetic procedures also provide restorative benefits. If your dentist determines treatment is medically necessary, your insurance may cover some of the expenses. Your coverage may include your consultation, diagnostic imaging, or preparatory procedures, like a dental cleaning. After meeting your annual deductible, your insurance can cover up to 80% of the expenses for certain restorative procedures, like tooth-colored fillings. A member of our office will work on your behalf with your dental insurance to maximize your coverage. They will explain how your benefits are being used and review your payment options for any remaining balance.
Do You Use Any Advanced Technology?
Cosmetic dentistry is a big commitment, but we take some of the uncertainty out of the process by using advanced technology. Our office offers virtual smile design technology, which allows you to see realistic images of your smile. We can show you the changes that will be made and what your new smile will look like before committing to anything.