Dentures – Gahanna, OH
Restore a Complete Smile with Dentures
Your teeth are designed to last forever with the right aftercare, but that is not a reality for many Americans. Even losing one tooth can create new challenges in your daily life; however, significant tooth loss can be devastating. If you are missing most or all of your natural teeth, you can rebuild your smile with dentures in Gahanna, OH. Although they have a bad reputation for looking and feeling fake, our dental office embraces the latest technology and materials to make your new smile more realistic than ever before.
Why Choose Claybrooke Dental of Gahanna for Dentures?
High-Quality Dental Materials Used
We Accept Dental Insurance
Experienced & Compassionate Team
Who Can Dentures Help?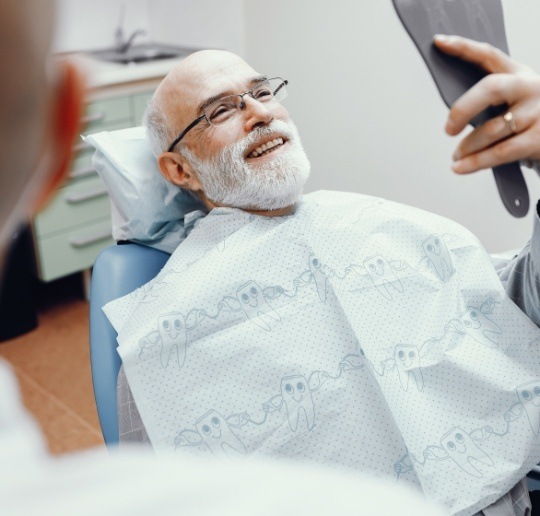 Dentures are the ideal solution for people who have healthy gums while also living with extensive or complete tooth loss. Prosthetic teeth are carefully crafted from high-quality material to mimic your natural ones. They allow you to regain your ability to eat many of your favorite foods with ease while also making it easier to speak clearly. You will also maintain a youthful appearance by giving your facial muscles and soft tissues adequate support.
What are My Options?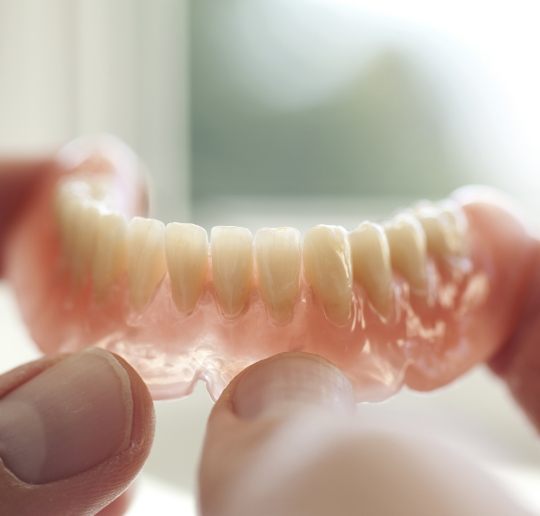 Depending on your degree of tooth loss and your individual needs, there are a couple of different options to replace your missing teeth. Your dentist in Gahanna evaluates your oral health and discusses the results you want to achieve to choose the right option for you.
Partial Denture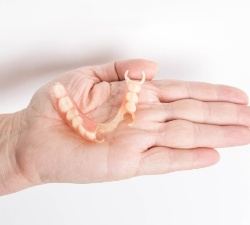 If you are missing several teeth but still have a few healthy ones remaining, you may be a candidate for a partial denture. Prosthetic teeth are designed to match the appearance of your natural ones to blend in seamlessly when you smile. They are held in a gum-colored base that features a metal framework. This allows it to clip or clasp into your remaining teeth to hold it in place.
Full Denture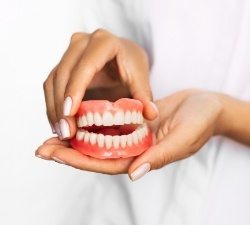 An entire arch of missing teeth is treated with a full denture. An impression of your mouth is taken to create an acrylic, gum-colored base to hold your prosthetic teeth. It is then held to your gum tissue using suction or an adhesive. Advanced technology is used to ensure the right fit to minimize any slipping or irritation. If you prefer a more permanent solution, ask Dr. Todd, Dr. Odenweller, or Dr. Buller about adding the security of dental implants to your smile.
What is the Process Like?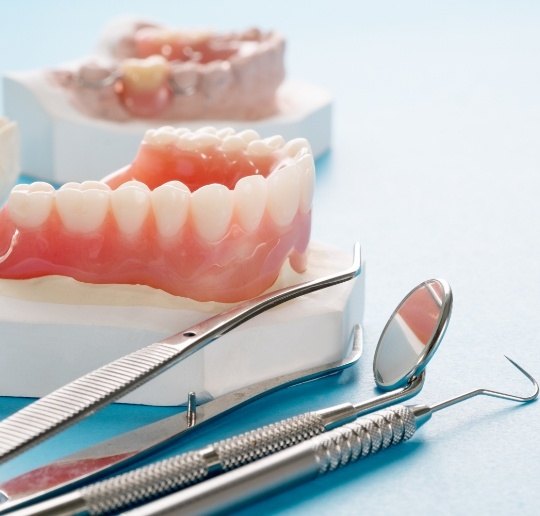 The process of replacing your teeth will take multiple appointments. After your initial consultation, you may need additional procedures before beginning the process, such as tooth extractions or periodontal therapy. After the foundation is set for your new smile, an impression of your mouth is taken to create a model of your denture. Several adjustments may need to be made before your permanent partial or denture is ready. With the right aftercare, your new smile can last for several years before needing to be replaced.
Dentures Frequently Asked Question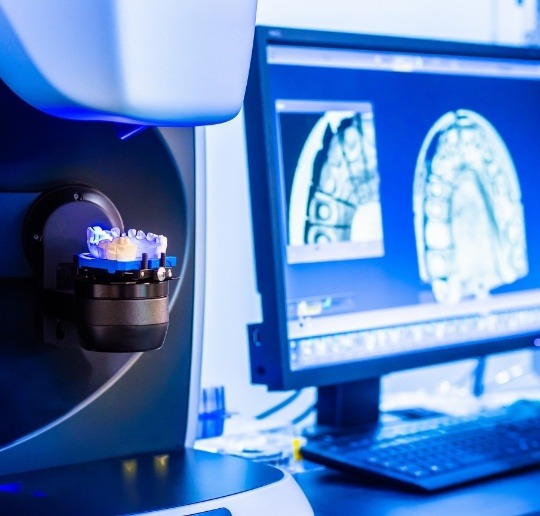 Wondering what it's like to get dentures in Gahanna or how your lifestyle will change? We want you to have as much information as possible so that you can always make good oral health decisions that you're confident in. Here are a few questions that many people ask when they find out they'll need false teeth in the near future.
How do I take care of my dentures?
While dentures aren't natural teeth, it's still important to clean them daily to remove any food and bacteria that's accumulated. This prevents staining and potential oral health problems. The best method is to use a soft toothbrush to scrub every surface gently. Don't use bleach or normal toothpaste that can discolor or damage the dentures; use an over-the-counter denture cleanser instead.
Never attempt to fix a broken denture by yourself. If the job is done incorrectly, it could cause soreness and problems chewing. Call us for an appointment instead; we'll repair the damage and make any necessary adjustments. Sometimes the denture will need to be replaced altogether.
Can I sleep with my dentures in my mouth?
If you wear removeable dentures, it's usually recommended to take them out at night to give your gums and jawbone a break from the constant pressure they've been under during the day. In general, you should never wear your dentures for a full 24 hours without, at the very least, performing proper oral hygiene. If there's a special occasion that requires you to keep your false teeth in for longer than normal, set some time aside during the day for your routine cleaning.
Will I be able to eat normally with dentures?
You'll need to learn how to chew with your dentures. After the initial adjustment period, you'll be able to eat most foods normally. You might need some extra time to get used to chewing particularly hard or sticky foods. (Chewing gum should be avoided altogether since it can very easily cause a lot of hard-to-repair damage.) If you're having trouble, you can use a denture adhesive to hold your false teeth in place.
How can I tell if my dentures no longer fit me properly?
Missing teeth cause your jawbone to break down gradually over time; as a result, there may come a time where your dentures no longer fit like they're supposed to. Ill-fitting dentures are very uncomfortable and can cause pain in your gums that's sometimes accompanied by bleeding. You may also feel them moving around, making it harder to speak and eat properly; sometimes there might be a clicking noise while chewing. Any of these problems should be taken as a sign that you should call us immediately so that we can make appropriate adjustments or order a replacement if necessary.
How long do dentures normally last?
Your dentures will need to be replaced eventually, whether it's due to changes in the jawbone, irreparable damage, or simple wear and tear from regular use. Assuming you practice good maintenance and excellent oral hygiene, though, you can usually expect them to last for about five to eight years.