Dental Crowns – Gahanna, OH
Protect Compromised Teeth from Further Damage
Tooth enamel may be the strongest substance in the body, but teeth can still be damaged in many different ways. Whether you have experienced tooth decay or experienced an injury, this can leave your teeth needing some extra support in order to stay in good health. The good news is that at Claybrooke Dental of Gahanna, we offer customized dental crowns to protect compromised teeth from further damage. To find out if a dental crown is right for you, contact our office to schedule an appointment.
Why Choose Claybrooke Dental of Gahanna for Dental Crowns?
Customized for Optimal Comfort
Dedicated Dental Team
Flexible Financing Options
What is a Dental Crown?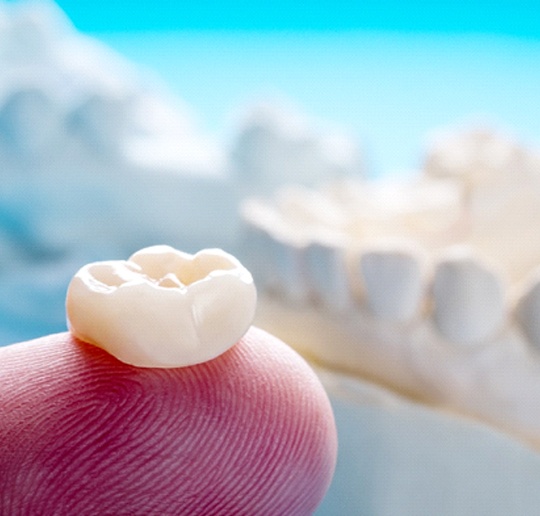 A dental crown is a custom-crafted "cap" that's made to fit over the biting surface of your damaged or weakened tooth above the gumline. This restoration can be made from many different materials, including gold, ceramic, and porcelain. Dental crowns are generally recommended if you have one of the following dental issues:
Broken tooth in need of additional support
Missing tooth being replaced with a dental implant
Tooth that is severely misshapen or discolored
Dental bridge that needs support from adjacent teeth
Tooth that has undergone root canal therapy
Severe decay repaired with a large dental filling
The Process of Getting a Dental Crown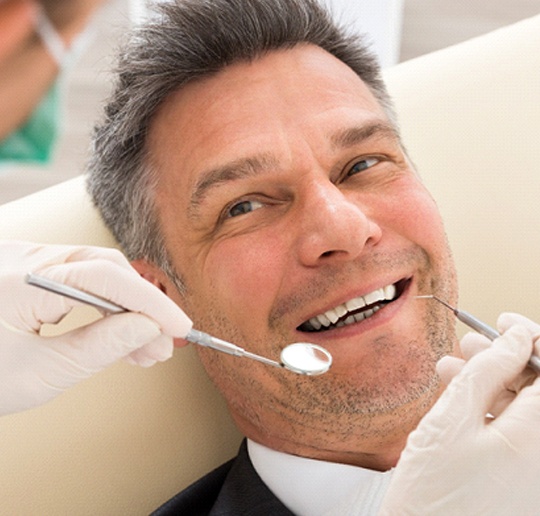 The process of getting a dental crown is relatively straightforward. It generally takes place over a few appointments. During the first one, we will take a look at your smile to ensure that a dental crown is the best option to protect your tooth. Next, a thin layer of you enamel is removed to make room for the crown to fit comfortably. The goal is for your crown to feel just like your natural tooth. That's why an impression is then taken of your tooth and surrounding gumline. This will be sent to a dental laboratory where your crown is custom-crafted just for you.
As soon as your crown is ready, we will let you know so you can come back to the practice. In the meantime, you will be given a temporary crown to keep your tooth safe and help you get used to how your new restoration will feel.
The Benefits of Getting a Dental Crown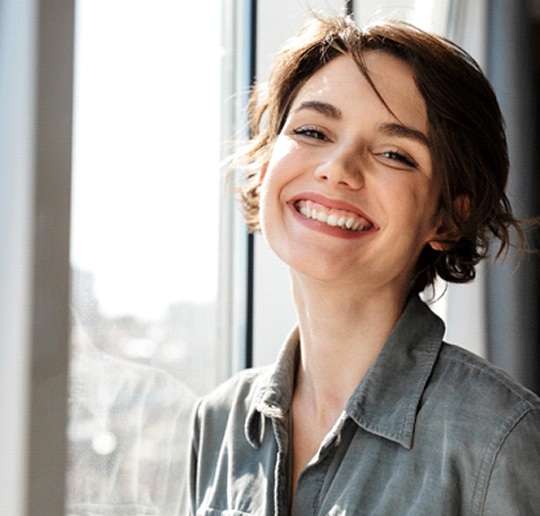 There are all sorts of benefits that you can expect once you get your dental crown. Here are just some of the most prominent ones:
Comfortable
Prevents future problems
Natural appearance
Customized
Can last 15+ years
Easy chewing
Dental Crowns FAQs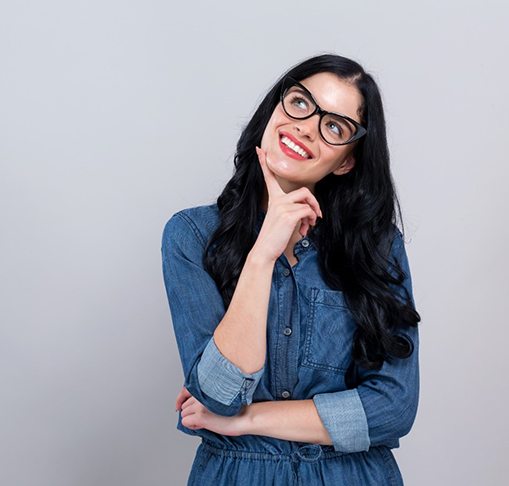 If you have a damaged tooth or recently got a root canal, then you may need to get a dental crown. By covering your natural tooth, this restoration can help protect and effectively restore its full function. Although this solution is a worthwhile investment, it's natural to want to know as much as possible about the treatment before committing to it. To help make finding the answers easier, we've collected several of the most commonly asked questions about dental crowns in Gahanna. Keep reading or reach out to our team if you wish to learn more today!
Does It Hurt to Get a Dental Crown?
Similar to getting a filling, our team will first numb your mouth before starting your treatment. Although you shouldn't experience any severe discomfort during the procedure, you may feel some mild sensitivity or soreness in your tooth for the following few days. This can especially happen if you also underwent a root canal treatment. If you do experience any discomfort, then you can easily manage it by taking over-the-counter pain relievers as directed. But if it persists or worsens over time, be sure to give us a call.
Are Dental Crowns Permanent?
While dental crowns aren't technically permanent, as they'll eventually need to be replaced, they do offer a long-lasting solution. With proper maintenance, you can expect your restorations to protect your tooth for 5 to 15 years. The only aspect that's irreversible is when your dentist prepares your tooth by removing your enamel, as this will not grow back on its own. This means you'll always need to have a crown on for protection. Fortunately, by covering the underlying tooth you can prevent further damage, preserving its health for much longer.
Do Dental Crowns Feel Natural?
Your dental crowns should begin to feel increasingly natural after the first few days of having them. They're constructed out of durable porcelain, which both looks and functions like normal teeth. They'll be able to withstand excessive chewing like natural enamel, allowing you to eat your meals comfortably. We'll also ensure that your crown is designed to fit seamlessly with the rest of your smile, meaning you'll hardly feel the difference when munching, chewing, or talking!
Do Dental Crowns Get Cavities?
Since your dental crown will be made out of durable material like porcelain or ceramic, it'll be impossible for it to develop cavities. Your natural underlying tooth, however, will still be susceptible to decay without proper dental care. If left unchecked, it can be possible for bacteria and plaque to form around your gum line where the crown begins. They can then slip underneath the restoration, which can result in dental complications. For this reason, you must prevent cavities from forming beneath your crown by regularly brushing and flossing every day. Be sure to also schedule a checkup and cleaning with our team to ensure your smile is safe and healthy.