Full Mouth Reconstruction – City, State
Personalized Treatment for Renewing Your Smile
Are you struggling with moderately damaged teeth? Do you have some pearly whites missing from your smile? Have you needed to receive fillings or crowns for compromised teeth? If so, you shouldn't have to settle for a smile you aren't happy or comfortable with. For patients who want to fix and improve upon damaged or weakened teeth, our team is more than happy to provide full mouth reconstruction in Gahanna! We can help develop your personalized path toward a brand-new smile with this streamlined process, involving a variety of dental services. Keep reading to learn more or reach out to our office today to schedule your initial consultation.
Why Choose Claybrooke Dental of Gahanna for Full Mouth Reconstruction?
Uses Reliable & Natural-Looking Dental Materials
Expert, Dedicated, & Caring Dental Staff
Accepts Dental Insurance & Offers Alternative Financing
Is Full Mouth Reconstruction Right for Me?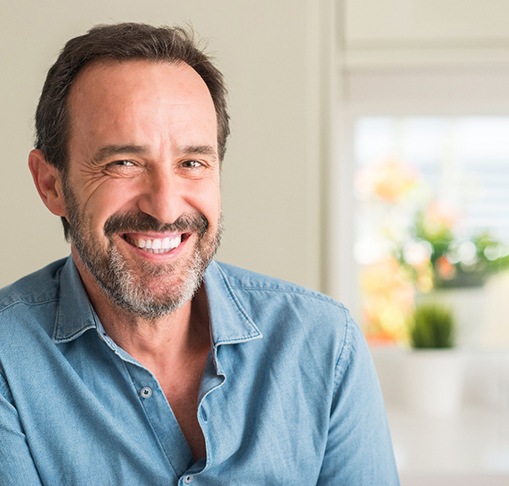 The only way to know for sure if a full mouth reconstruction is best for you is by seeing us for your initial consultation. This is where we can assess your oral health and determine the appropriate treatments necessary to achieve your desired smile goals. Generally speaking, full mouth reconstruction is used for patients who:
Don't know where to begin improving their smiles – Those who feel overwhelmed about repairing or enhancing their teeth can feel comfortable knowing they aren't alone. Our experienced and caring team will review your goals and develop a custom plan that can specifically address your concerns.
Have multiple teeth that need to be fixed – If you have several kinds of dental issues or have difficulties getting your smile back to health, you can certainly benefit from the all-inclusive nature of a full mouth reconstruction.
Wish to enhance their overall well-being – A full mouth reconstruction can help treat oral health concerns that impact your smile and overall quality of life, allowing you to feel better both physically and mentally.
The Full Mouth Reconstruction Process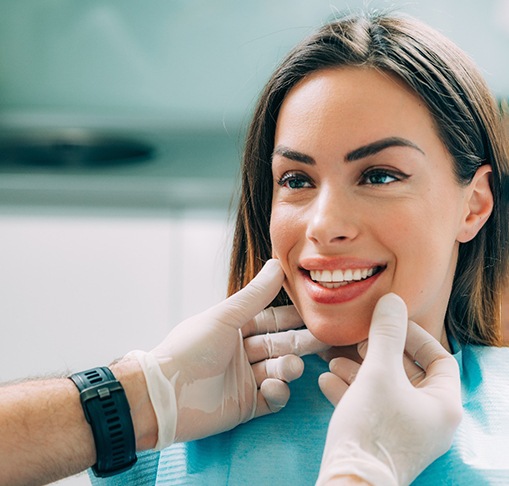 Your full mouth reconstruction process will be specifically designed to address your dental needs and goals. This means no treatment plan will look the same. That said, every full mouth reconstruction begins with an initial consultation that will allow us to review the services that will be best for restoring your pearly whites. These treatments can include:
Tooth-colored fillings
Dental crowns
Periodontal therapy
Root canal therapy
Tooth extractions
Dentures
Dental bridges
Dental implants
Cosmetic bonding
Veneers
And more!
Understanding the Cost of a Full Mouth Reconstruction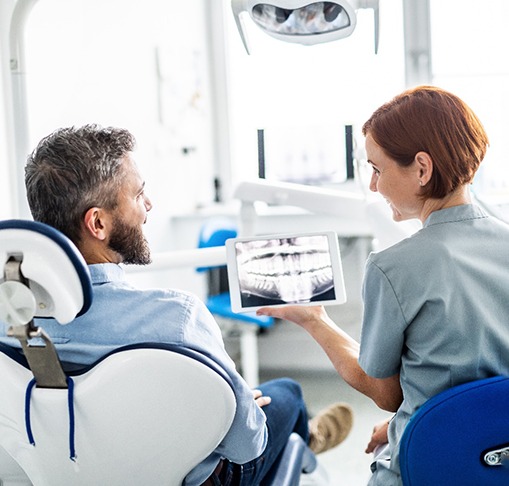 Since every treatment plan varies from patient to patient, you won't expect a set fee for a full mouth reconstruction. The overall price will depend on a variety of factors, such as the number of dental issues you want to address and the types of services you'll need to accomplish your desired results. For example, a treatment process involving a tooth extraction, dental bridge, and two crowns will tend to cost much less compared to a plan including several extractions, gum disease therapy, and dental implants.
During the planning portion, we'll provide you with a more accurate estimate of the cost of your full mouth reconstruction so that you can make a well-informed decision. We'll be glad to walk you through the financing options that can work for you and your budget, such as dental insurance, third-party financiers (like CareCredit), and our in-house membership plan. You'll have a more stress-free experience when it comes to restoring your healthy and beautiful smile!