Porcelain Veneers – Gahanna, OH
Achieve a Hollywood
Smile with Veneers
You do not have to be an A-list celebrity to achieve the beautiful smile of your dreams! At Claybrooke Dental of Gahanna, we can dramatically transform your teeth with high-quality porcelain veneers. Whether your teeth are chipped, stained or undersized, veneer treatment can effectively conceal all your minor dental flaws. You will never have to be embarrassed by the appearance of your smile again! If you want to take advantage of cosmetic dentistry and boost your self-confidence, contact our team today to learn more about porcelain veneers in Gahanna, OH.
Why Choose Claybrooke Dental of Gahanna for Porcelain Veneers?
Lifelike, Durable Dental Porcelain Used
Experienced Team of Dentists
Judgement-Free Dental Care
What are Porcelain Veneers?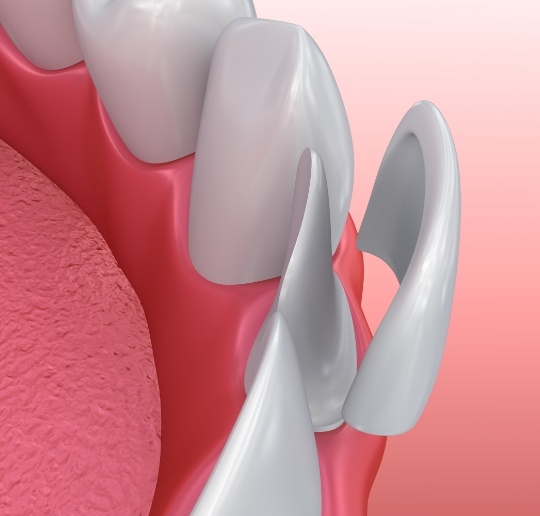 Veneers are thin shells that are permanently bonded to the front of teeth to conceal a wide variety of dental imperfections. Custom-crafted from durable, tooth-colored porcelain, veneers can make minor cracks and chips disappear and dramatically brighten your smile!
Am I a Good Candidate for Porcelain Veneers?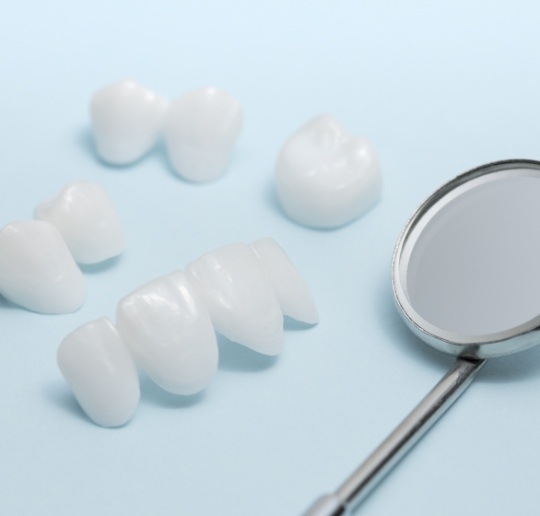 Whether you are looking to correct a single issue or completely rejuvenate your smile, porcelain veneers in Gahanna may be the right cosmetic treatment for you. Patients who are considered good candidates for veneer treatment typically are seeking to address one or more of the following issues:
Cracked or chipped teeth
Gaps between teeth
Misshapen teeth
Stained or discolored teeth
Slightly misaligned teeth
The best way to determine if you are a good candidate for porcelain veneers is to schedule an initial consultation with one of our expert dentists.
What is the Process of Getting Porcelain Veneers?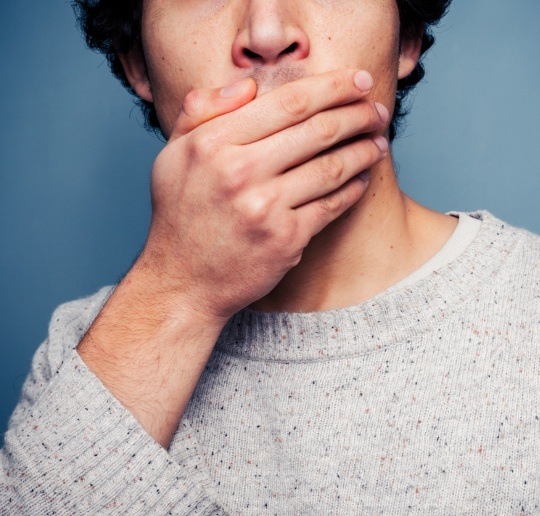 Porcelain veneers typically require just two trips to a dentist. Here is what you can expect when you undergo veneer treatment at Claybrooke Dental of Gahanna:
Veneer Preparation: We will first prepare your teeth by removing an ultra-thin layer of enamel and taking impressions of your teeth. We will send the impressions to a dental lab, where specialists will use them to craft your custom veneers. You may be provided with temporary veneers to protect your teeth until your permanent ones are ready.
Veneer Placement: Once we have received your custom veneers, we will welcome you back to our dental office for the placement procedure. After removing your temporary veneers and polishing your teeth, your dentist will attach your permanent veneers to your teeth using bonding cement and a special curing light. It's that easy!
What are the Benefits of Porcelain Veneers?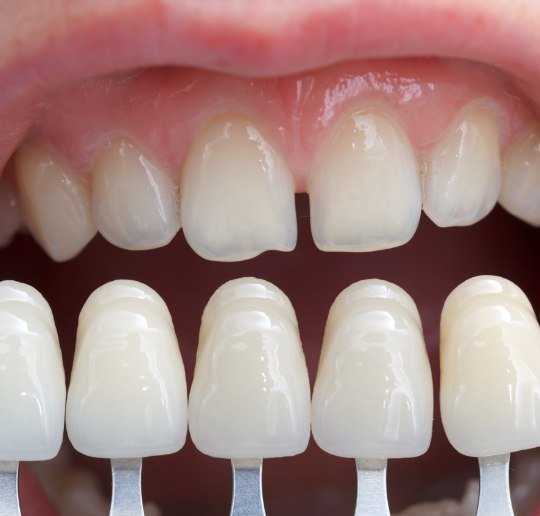 For our patients who are seeking a more beautiful and confident smile, porcelain veneers in Gahanna offer a number of benefits, such as:
Brighter Smile – Porcelain is naturally stain-resistant, meaning your smile will stay whiter for a longer period of time.
Natural Appearance – Your dentist will color-match the veneers to your enamel so they blend in seamlessly with your natural smile.
Immediate Results – Once your permanent veneers have been bonded in place, you can immediately carry on with your day.
Long-Lasting Solution – With proper care, porcelain veneers can easily last up to 15 years.
Making Your Porcelain Veneers Last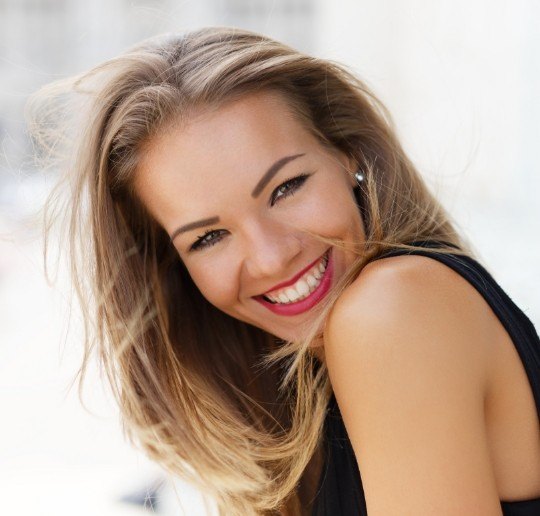 You can help ensure your new smile with veneers stays in great shape for many years to come by following these simple steps:
Brush your teeth twice a day and floss daily
Wear a protective mouthguard when playing recreational sports
Do not chew on pen tips, fingernails or other hard objects
Visit your dentist in Gahanna twice a year for a routine checkup
Porcelain Veneers Frequently Asked Questions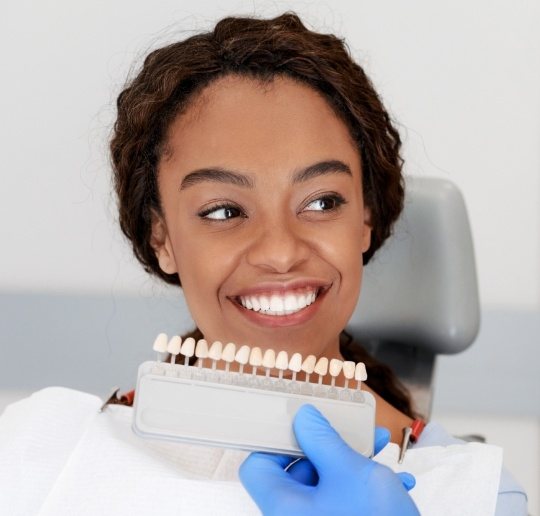 Are you ready to achieve a Hollywood smile with Veneers in Gahanna? This popular cosmetic treatment is very different than other options for improving your smile, so it's natural to have a few questions about them. For your convenience, we've gathered some common questions we get about porcelain veneers below so you can learn more. If you don't see the answers you're looking for, give us a call!
Can anyone get porcelain veneers?
In the past, porcelain veneers were only used by celebrities and movie stars. Nowadays, they're still a popular choice in Hollywood, but they're also widely available for anyone who wants a red carpet-ready smile! We'll check to see if veneers are right for you during your consultation. To be considered a good candidate, you'll need to be free of issues like tooth decay, gum disease, and teeth grinding. Once your smile is healthy, we can move on to improving its appearance.
How many veneers will I need?
If you wanted to, you could get a single porcelain veneer to cover one tooth. However, we recommend getting veneers in pairs. Usually, this will be the front two, four, six, or eight teeth. We don't believe in cookie-cutter cosmetic dentistry, so we'll help you determine how many veneers you need to achieve the unique results you're looking for.
Does getting porcelain veneers hurt?
For some patients, the idea of removing enamel to place the veneer sounds daunting and potentially painful. Rest assured, you have nothing to worry about! We only need to take off a layer about as thick as a contact lens—most patients don't even need local anesthetic. Of course, we'll always make sure you're completely comfortable before moving forward with your treatment.
Are porcelain veneers permanent?
It's important to remember that getting porcelain veneers is irreversible. Enamel doesn't naturally grow back, so your prepared teeth will always need to be covered with a veneer to keep them safe from damage and decay. Thankfully, your veneers will only need to be touched-up or replaced every 10 years (or longer!), as long as you take care of them properly.
Are porcelain veneers covered by dental insurance?
Unfortunately, cosmetic treatments like porcelain veneers aren't usually covered by dental insurance. Every plan is different, so feel free to bring your insurance paperwork with you to your consultation and we'll be happy to review your benefits with you to see what's covered.
Even if the treatment isn't covered, that doesn't mean achieving the smile of your dreams is out of reach! We are pleased to offer financing options through CareCredit. This third-party company offers payment plans to break up the cost of your treatment. Instead of paying for your entire procedure upfront, CareCredit allows you to pay for portions of it over time with low- to no-interest rates. During your consultation, we'll go over your personal estimate as well as all your options for making your new smile as affordable as possible.
Are you ready to erase those chips, stains, gaps, and other cosmetic imperfections from your pearly whites? Give us a call today to schedule your consultation and start your journey towards a flawless smile!